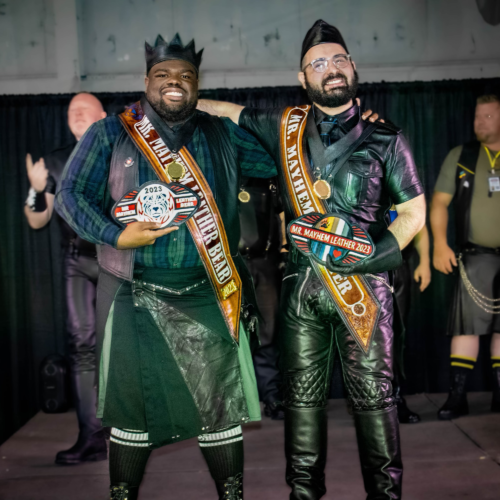 Mr. Mayhem Leather Bear 2023
Thunderknight
Mr. Mayhem Leather 2023
Keron
Bears, Bikers and Mayhem is an amazing event that joins the worlds of Leather, Bears, Kink, Queers, and everyone else in between into one magical place where they can enjoy one another's company.
As such the Mr. Mayhem Leather, and Mr. Mayhem Leather Bear contests are as unique as the people they represent. It's the goal of the "Mayhems" (as they are collectively known) to promote the "Mayhem Life" of acceptance and inclusion. As well as promoting the event weekend, and its parent organizations.
Being a part of the Mayhem Legacy is subscribing to something greater than yourself. A chance to use an elevated platform to unite people under one common banner, to influence change and be a catalyst of Mayhem. Together, we can all make a difference and the Mayhems are the cornerstone of that effort.
If you think you have what it takes to join the ranks of past Mayhems, then we would be pleased to see you on our stage at the next event.